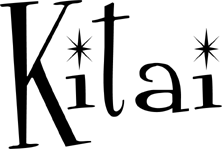 | | |
| --- | --- |
| | |
| Sitting Pretty | Mom, Me, Elvira, Natalie & Hoda |
The TODAY Show
October 2007

A Big NYC Adventure For One Scruffy Little Dog
My overnight Halloween trip to the TODAY Show on NBC
- MORE PICTURES AND VIDEO BELOW -
Well I went to New York City! You've probably heard by now that I didn't win the big costume contest. Truthfully I wasn't that disappointed. I mean what am I gonna do with a big gold trophy? There would have only been two options, pee on it or chew on it. Mom says both would be really wrong so I guess I didn't miss out on too much. The consolation prizes were great! Lots of treats and toys! I already shared some with one of my Dogster pal's whose mom came all the way to NYC from New Jersey to meet me. I sent Daisy my giant rawhide and a package of treats. I hope she enjoys them. I'm also going to offer my Pegetable to my pal Rosalita on Dogster because I know she loves them.

Mom was thrilled that I got to be on tv. As many of you know I am a volunteer goodwill ambassador for pet adoption through shelters and rescues. So as long as we helped to spread the word that there are great dogs waiting for new forever homes in shelters that was all that really mattered to her. They didn't mic my mom so if any of you were wondering what she said to Natalie when she asked why mom made me a Cesar costume mom told her it was because we admire Cesar for helping families stay together.

On a funny note I was treated like a star! A driver in a big, shiny, black car picked us us at the airport and we stayed in a swanky luxurious hotel. I could get used to being treated like a celebrity!

This morning before the show mom took me down for a walk in Central Park. I marked so many trees and fire hydrants in NYC I lost count! Then we were whisked off to the NBC studios. A lot of people there really liked my costume. One lady even made Matt Lauer come look at me! He laughed when he saw my outfit. After the segment I got my picture taken with Elvira and football player Tiki Barber.

Mom was VERY proud of me. As some of you know I used to have a BIG problem being mean to big dogs. Well today I quickly became buddies with Miles the Rottweiler and after one little growl at Pasha, the gorgeous Husky who won, I was also pretty darn nice to him too.
| | | |
| --- | --- | --- |
| | | |
| My Hotel Room! | Me, crashed in front of the tube. | My Morning Walk |
Then Mom's Dogster.com pal and her daughter met us back at the hotel and we went for another walk in Central Park and grabbed some lunch off a street cart. I saw LOTS of carriage horses. I was minding my manners really well. I almost barked at them once but when mom told me to settle down I did. I was the model tourist. Well except for the lifting my leg on everything in sight part. BOL.

So all in all the trip was a blast! We had a great time meeting and hanging out with all of the other pups and their owners that morning and I am now an official jet setter. Mom says I did great on the plane. I was in cargo since I'm too big to fit in the cabin, but I did just fine. Mom made sure to get a direct, non-stop, flight so I would be less traumatized and to remove any chance of us being seperated on the flight.

Well I have to run. It's Halloween. Time to go Trick-or-Treating! We'll post a picture of my new costume on my page tomorrow! Hope you all get lots of great treats!

XOXOXO

Kitai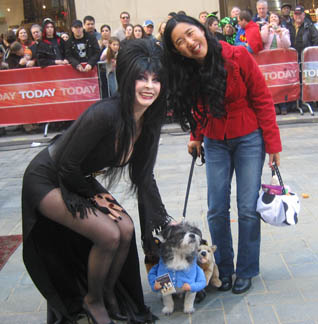 With Elvira



With Tiki Barber
| | | |
| --- | --- | --- |
| | | |
| The edge of Central Park. | | The Winner and his Proud Mom! |
| | | |
| --- | --- | --- |
| | | |
| At the TODAY Show | Woo Hoo my prizes! | Waiting for the shuttle. |

• • • • • • • • • • • • • • • • • • • • • • • • • • • • • • • • • • • •


PRESS - PUBLICITY - CONTESTS - AND MORE!

Click on the images below to view the full articles and more pictures.