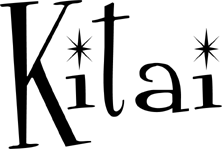 Get a Kitai Mug on

CafePress.com

! 100% of the profits will be donated to spay & neuter dogs to help end pet overpopulation!
Mom Talks About the Day She Found Me:

I was looking for a dog. Big and kind of mean looking, a good solid watch dog kind of guy. But there he was, sitting all alone in a concrete dog run at the Humane Society. He was a scruffy little guy and his cage tag said he had been found wandering in a field. I saw him on a Saturday, went home and thought about him, then went back the next morning. I spent three hours there on Sunday, watching him to gain some insight into his personality.


He was really calm, and didn't bark at all. He looked very sad and aloof, and wasn't friendly at all. Which for those of you who know him now is almost impossible to imagine. He had been there for over two weeks and was less then a year old, so out of fear that he might be killed, I decided to adopt him.

As soon as I brought him home his personality came out. Boy did it! He is now the happiest little guy in the world. His name is pronounced key-tie which means: To hope with confident anticipation. It seemed appropriate since he was waiting for someone to take him home. Now he plays all day long, has learned a ton of tricks, and is so friendly that he even has his own fan club.

Finding Kitai dispelled all of the wrong impressions I had about shelter dogs.

Yes, he came to me with a few problems:

1. Being aggressive to dogs taller then himself. But 4 years later he's now good with large dogs 90% of the time.
2. Once a year he'll bark at some random man in a hat. Baseball caps and bike helmets are usually what sets him off.

3. Not leash trained, or trained at all.

The incredible part about him being a shelter dog? He came to me:

1. Great with infants and kids of all ages.

2. Great with all other adults except for afore mentioned men in hats.

3. Completely housebroken.

4. No excessive barking. I'm serious this dog did not bark for the first year he lived with me.

5. Smart as a whip. Was leash trained in a couple of months and has since learned a ton of tricks.

6. Has never chewed on anything he wasn't supposed to.

7. Incredibly playful. He's never met a toy he didn't love.

8. Is an absolute snuggle bug who just soaks up the hugs and kisses.

So if you're on the fence about adopting a dog from a shelter please realize: Not all dogs in shelters are bad dogs. In fact most are great dogs. They just need someone to give them a chance to prove it.

Photo by: Wendy Maclaurin Richardson
• • • • • • • • • • • • • • • • • • • • • • • • • • • • • • • • • • • • • • • • • • • • • •
"I just spent almost an hour looking at this site! Kitai is soooo lucky to have his mom,
and we're all soooo lucky to have him in our lives! He makes me want to get a dog
of my own. I love love love him..."
~ Michelle M.
The following message was submitted by Kitai's pal Beatrix, a dog, who Kitai met at Dogster.com. Beatrix does her own typing which is no easy feat when you have paws instead of fingers. No opposable thumbs! You can meet Beatrix and the Fun Loving Five on my Cutest Friends page!
Kitai you genius and CUTE too!

Thank you for share this site! Me LOVE title…Cutest dog ever…yep that Kitai! Me LOVE story of come forever home! This best site ever see in life and me not kidding you!

Kitai just got big fan club…Fun Loving Five!
XOXOXO to big star Kitai
~ Beatrix