• • • • • • • • • • • • • •
Fund Raisers for the
CDE Spay and Neuter Fund
CAFEPRESS.COM
Get a Kitai Mug or T-shirt on
CafePress.com
!
100% of the profits
will be donated to the
CDE Spay and Neuter Fund!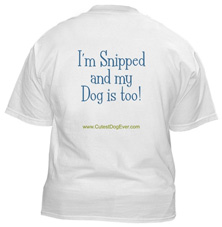 A CDE original design,
our own humorous way to
promote spay and neuter.
OK, well maybe just neutering
for doggie daddies not afraid
to make a statement!
Also available on boxers
for those who feel the shirt
may be TMI for the general
public.